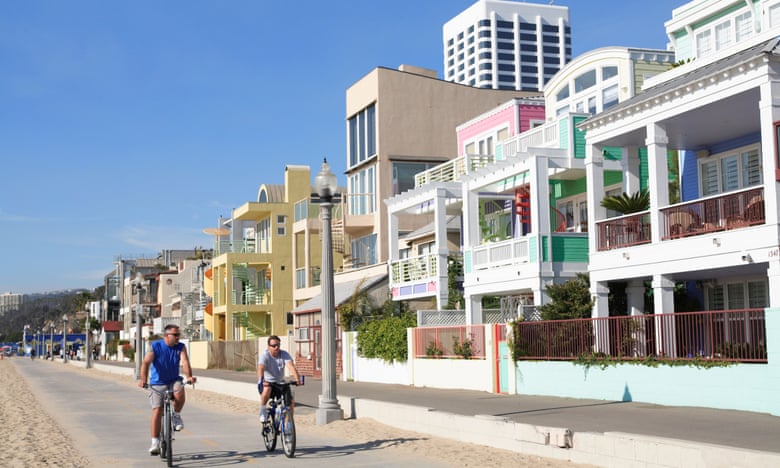 Those who envision themselves living in Santa Monica, the wealthy and politically progressive coastal enclave west of Los Angeles, no doubt envision themselves living happily there. It would seem to have everything: miles of coastline with beaches open to all, the striking Santa Monica mountains just to the north, plenty of equally striking southern-Californian architecture (its many celebrity residents include the illustrious architect Frank Gehry), top-rated schools, police and firefighters, and, of course, that world-famous pier.

It has also avoided some of the problems that plague Los Angeles, from the financial (its general fund reserve exceeds that of LA, which has over 40 times Santa Monica's population) to the cultural (that population itself – among which you more often hear British accents than the babel of tongues that characterise the big city just east – appears to get along without much visible conflict). Given this sun, sea, stability and prosperity, one would imagine that one's wellbeing would take care of itself.

However, starting in 2013, the city of Santa Monica began developing a means by which to gauge, both objectively and subjectively, whether its citizens really do enjoy such a famously high quality of life. The Wellbeing Project, funded by a million-dollar grant from Bloomberg Philanthropies' first Mayors Challenge, a competition meant to spur city leaders to come up with, in the words of founder and former New York City mayor Michael Bloomberg, "innovative new ways to address urban challenges – and then share what's working with the world".

The same year the Mayors Challenge awarded a grant to Santa Monica for the Wellbeing Project, it also awarded grants to four other American cities – Chicago, Houston, Philadelphia, and Providence – to fund their own ideas. As the smallest in that cohort by a wide margin, Santa Monica looked like an outlier from the beginning, but its modest size also made its proposal more viable, given its stated ambition of not just breaking down overall quality of life into a set of measurable factors, but actually going out and measuring them in its population of 93,000.
Read the whole thing at the Guardian.